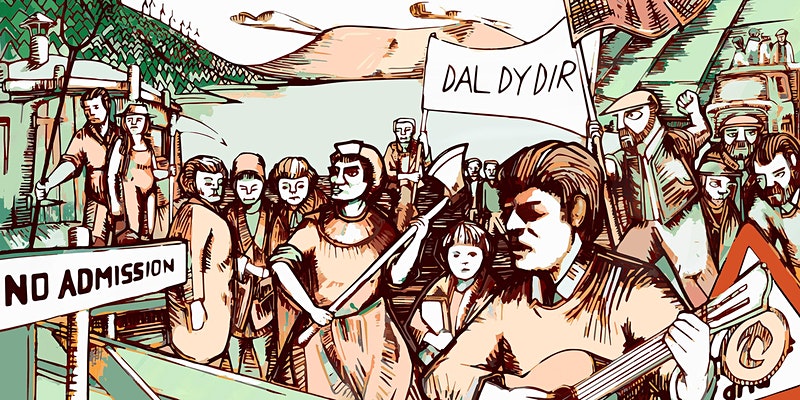 Our Welsh sibling show Gafael Tir have created an four part online version of their show which will take place on the following dates from October to December 2020:
Episode 1 (25th and 29th October) begins a thousand years ago, and tells the story of the 'taeogion' , the land workers of medieval Wales who's remarkable resilience saw their culture persist for centuries.
Episode 2 (8th and 12th November) explores the industrial revolution and the story of unions, mass migration, land enclosures and the ultimately, the continuing resilience of Welsh folk.
Episode 3 (22nd and 26th November) tells the tale of 20th century Wales, including government land grabs, the peace movement, women's suffrage and Prince Charles!
Episode 4 (6th or 10th December) takes a look at the present day and the future, including the Welsh assembly, agriculture, sustainable development and why we will build a wall around Aberystwyth
If we're not performing near you soon, find out how to book/request a show or host your own sing/read through.
Past shows archive
| | | |
| --- | --- | --- |
| Zoom show | Online | 27/06/20 |
| May Day for Migrants | Online | 01/05/20 |
| St. Margaret's House | Bethnal Green | 19/11/19 |
| The British School | Stroud | 27/10/19 |
| Everybody's Reading Festival | Leicester | 25/10/19 |
| The Cube | Bristol | 25/10/19 |
| Foodhall | Sheffield | 03/10/19 |
| Organiclea | Chingford, London | 28/09/19 |
| St Margaret's Church | Manchester | 21/05/19 |
| St. Margaret's House | Bethnal Green | 21/05/19 |
| The Trades Club | Hebden Bridge, West Yorks | 28/04/19 |
| Old Bridge Street Church | Leeds | 08/03/19 |
| Quaker Meeting House | Edinburgh | 03/03/19 |
| The Avalon Club | Glastonbury, Somerset | 17/02/19 |
| The Shed | Charlbury, Oxfordshire | 15/02/19 |
| St Paul's Church | Camden, London | 06/02/19 |
| Wortley Hall | Sheffield | 24/10/18 |
| The Co-operative Party Conference | Bristol | 12/10/18 |
| Friends Meeting House | Harrogate | 30/09/18 |
| Friends Meeting House | Lancaster | 29/09/18 |
| Hallgarth Community Centre | Kendal, Cumbria | 28/09/18 |
| The Annex, Community Enterprise Centre | Hull | 15/09/18 |
| Quarterhouse | Folkestone, Kent | 06/09/18 |
| Totnes United Free Church | Totnes, Devon | 01/09/18 |
| Shambala festival | Northamptonshire | 25/08/18 |
| Garstang Arts festival | Garstang, Lancashire | 19/08/18 |
| Cock & Bull festival | Near Melksham, Wiltshire | 11/08/18 |
| Off Grid festival | Bideford, North Devon | 10/08/18 |
| Green Gathering festival | Chepstow | 03/08/18 |
| Hamilton House | Bristol | 02/08/18 |
| Unity Hall | Islington, London | 23/06/18 |
| The Mechanics Institute | Nottingham | 30/05/18 |
| Canon Frome Court | Ledbury, Herefordshire | 13/05/18 |
| Small World Theatre | Cardigan, Wales | 12/05/18 |
| Brimfield Village Hall | Ludlow | 12/05/18 |
| The Three Sisters | Edinburgh | 04/04/18 |
| Ctrl Shift summit | Wigan | 27/03/18 |
| Bloomsbury Theatre Studio | London | 26/03/18 |
| Regather | Sheffield | 22/03/18 |
| Caroline Street Social Club | Shipley, West Yorkshire | 16/03/18 |
| Rye Bakery | Frome, Somerset | 10/03/18 |
| Hauser & Wirth | Bruton, Somerset | 08/03/18 |
| Lansdown Hall | Stroud, Gloucestershire | 03/03/18 |
| The Fold | Worcester | 16/02/18 |
| Brunswick Methodist Church | Newcastle Upon Tyne | 20/01/18 |
| Trades Club | Hebden Bridge, West Yorks | 03/12/17 |
| The Old School Rooms | Hackney, London | 18/11/17 |
| Graceworks | Evington, Leicester | 10/11/17 |
| Rook Lane | Frome, Somerset | 26/10/17 |
| Lopping Hall | Loughton, Essex | 21/10/17 |
| Monkton Wyld Court | Charmouth, Dorset | 07/10/17 |
| Green Earth Awakening | Wellington, Devon | 23/09/17 |
| Quaker Yearly Meeting | Coventry, Warwickshire | 04/08/17 |
| London Permaculture Festival | Regent's Park, London | 30/07/17 |
| Seed Festival | Stroud, Gloucestershire | 08/07/17 |
| Friends Of The Earth: Basecamp | Castleton, Derbyshire | 03/06/17 |
| Jubilee Hall | Chagford, Devon | 19/05/17 |
| All Hallows Hall | Bristol | 13/05/17 |
| Swindon Literature Festival | Swindon, Wiltshire | 07/05/17 |
| St Mary's Church | Hutton, Somerset | 08/04/17 |
| St Leonard's Church | Rodney Stoke, nr Cheddar, Somerset | 07/04/17 |
| Energise Festival | Manchester | 31/03/17 |
| Green Architecture Day | Brighton | 25/03/17 |
| Friends Meeting House | Bath, Somerset | 11/03/17 |
| Chiselborough Village Hall | nr Yeovil, Somerset | 10/03/17 |
| Grow Heathrow | West Drayton , London | 04/03/17 |
| Westminster Quaker Meeting House | Westminster, London | 18/02/17 |
| Westminster Quaker Meeting House | Westminster, London | 17/02/17 |
| Norwich Central Baptist Church | Norwich | 19/11/16 |
| Fordham Gallery | Hackney Wick, London | 05/11/16 |
| House Of The Commons | Oxford | 21/10/16 |
| Norham Village Hall | Norham, Northumberland | 14/10/16 |
| The Cumberland Arms | Newcastle | 12/10/16 |
| Barbican Centre | Barbican, London | 08/10/16 |
| Dark Mountain Project | Exeter, Devon | 02/09/16 |
| Woodcraft Folk Venturer Camp | Derby | 07/08/16 |
| Subscription Rooms | Stroud, Gloucestershire | 11/06/16 |
| Fire In The Mountain festival | nr Aberystwyth, Wales | 05/06/16 |
| Radical Herbal Gathering | Berrington, Shrewsbury | 04/06/16 |
| Friends Meeting House | Bristol | 03/06/16 |
| Three Acres and a Cow Wales / Tair Erw a Buwch | Llanrhaeadr Ym Mochnant | 28/05/16 |
| Vane Tempest Room | Machynlleth, Powys | 27/05/16 |
| The Fishermen's Chapel | Leigh-on-Sea, Essex | 21/05/16 |
| RARA school | Hackney, London | 07/05/16 |
| Reclaim The Power | nr Merthyr Tydfil, South Wales | 01/05/16 |
| Nexus Art Cafe | Manchester | 16/04/16 |
| Edibles | Huddersfield | 15/04/16 |
| GalGael | Glasgow | 07/04/16 |
| Holy Sepulchre Church Hall | Northampton, Northamptonshire | 13/02/16 |
| JW3 | Finchley Road, London | 25/01/16 |
| Oxford Real Farming Conference Fringe | Oxford, Oxfordshire | 07/01/16 |
| Hari's Bar USSU | Guilford, Surrey | 08/12/15 |
| Christ Church | Sheffield, South Yorkshire | 05/12/15 |
| Holy Trinity Church | Leeds, West Yorkshire | 04/12/15 |
| Friends Meeting House | Nottingham, Nottinghamshire | 03/12/15 |
| Cecil Sharp House | Regent's Park, London | 25/11/15 |
| The Winchester | Bournemouth, Dorset | 21/10/15 |
| International Permaculture Convergence | Chingford, London | 13/09/15 |
| Greenbelt Festival | nr Kettering, Northamptonshire | 31/08/15 |
| Create Centre | Bristol, Avon | 08/08/15 |
| Methodist Church Hall | Totnes, Devon | 10/07/15 |
| Fire In The Mountain | nr Aberystwyth, Wales | 30/05/15 |
| Vane Tempest Room | Machynlleth, Powys | 27/05/15 |
| Green Earth Awakening | Wellington, Devon | 22/05/15 |
| The Truscott Arms | Maida Vale, London | 23/04/15 |
| Woodcraft DF camp | nr Bradford, Yorkshire | 09/04/15 |
| Ventor Exchange | Ventnor, Isle of Wight | 07/04/15 |
| Ventor Exchange | Ventnor, Isle of Wight | 06/04/15 |
| People's History Museum | Manchester | 28/03/15 |
| Cultivate Festival | Walthamstow, London | 26/03/15 |
| The View Bar | Southampton | 25/03/15 |
| Embercombe | Exeter, Devon | 21/03/15 |
| The Vineyard Church | Richmond, London | 20/03/15 |
| St Monica Trust | Westbury-On-Trym, Bristol | 29/01/15 |
| The Sustainability Centre | Petersfield, Hampshire | 11/10/14 |
| Cowley Road Methodist Church | Oxford | 09/10/14 |
| UK Permaculture Convergence | Chingford, London | 12/09/14 |
| The Green Backyard | Peterborough, Cambridgeshire | 30/08/14 |
| Woodcraft Folk DF Camp | Giggleswick, Yorkshire | 31/07/14 |
| Cock & Bull Festival | Near Melksham, Wiltshire | 26/07/14 |
| Tolpuddle Martyrs Festival | Tolpuddle, Dorset | 20/07/14 |
| Laurieston Hall | Castle Douglas , Dumfries & Galloway | 12/07/14 |
| Metal | Peterborough, Cambridgeshire | 19/06/14 |
| The Spark | Bethnal Green, London | 17/06/14 |
| Old Mayfair Carpet Gallery | Southwark, London | 10/05/14 |
| Allotment Society Festival | Coventry, Warwickshire | 07/05/14 |
| Relevation St. Mary's | Ashford, Kent | 15/03/14 |
| Women's Institute Hall | Bridport, Dorset | 12/03/14 |
| Grow Heathrow's 4th Birthday Party | West Drayton , London | 28/02/14 |
| University Of Birmingham | Birmingham, West Midlands | 13/02/14 |
| University Of Reading | Reading, Berkshire | 12/02/14 |
| Metal | Peterborough, Cambridgeshire | 15/11/13 |
| Shared Planet 2013 – People & Planet | Plaistow, London | 02/11/13 |
| Hogacre | Oxford, Oxfordshire | 14/09/13 |
| The Permaculture Festival | Regent's Park, London | 14/07/13 |
| Open House | Elephant And Castle, London | 19/05/13 |
| Ye Olde Rose And Crown Theatre Pub | Walthamstow, London | 05/04/13 |