*** this website is now dead – luckily you can find an archived version of it here – https://web.archive.org/web/20170308111703/http://gerald-massey.org.uk/jones/c_poems_2.htm ***
Wow – this website is amazing – http://gerald-massey.org.uk/
I found it when looking for the full words of 'Our Summons' by Ernest Jones which took me to here – http://gerald-massey.org.uk/jones/c_poems_2.htm – he wrote most of his poetry in his own blood whilst in prison. What to say. Lost for words.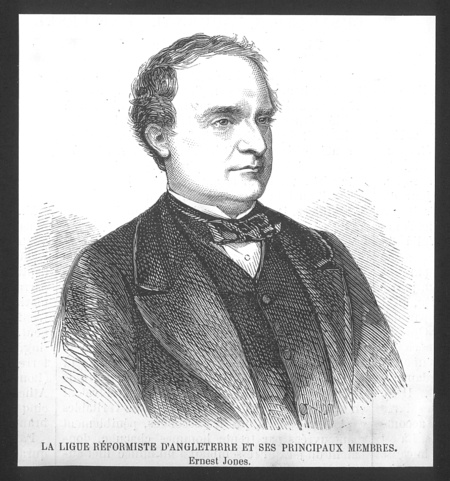 OUR SUMMONS.
Men of the honest heart,
Men of the stalwart hand,
Men, willing to obey,
Thence able to command:
Men of the rights withheld,
Slaves of the power abused,
Machines cast to neglect,
When your freshness has been used.
Ye labourers in the vineyard,
We call you to your toil!
Though bleak may be the furrows,
The seed is in the soil.
'Tis not to raise a palace,
Where Royalty may dwell,
Nor build for broken hearts
The petty parish hell;
'Tis not to turn the engine,
'Tis not the field to till,
That, for the meed you gain,
Might be a desert still!
'Tis not to dig the grave,
Where the dying miner delves;
'Tis not to toil for others
But to labour for yourselves.
And nobler coin will pay you,
Than Kings did e'er award
To the men, they hired to murder,
The brothers they should guard.
No glittering stars of knighthood,
Shall soil your simple vest—
But the better star of honour
Brave heart in honest breast.
No changing Norman titles,
To hide your English name—
But the better one of freemen,
With its blazoning of fame.
Up! Labourers in the vineyard!
Prepare ye for your toil!
For the sun shines on the furrows,
And the seed is in the soil.