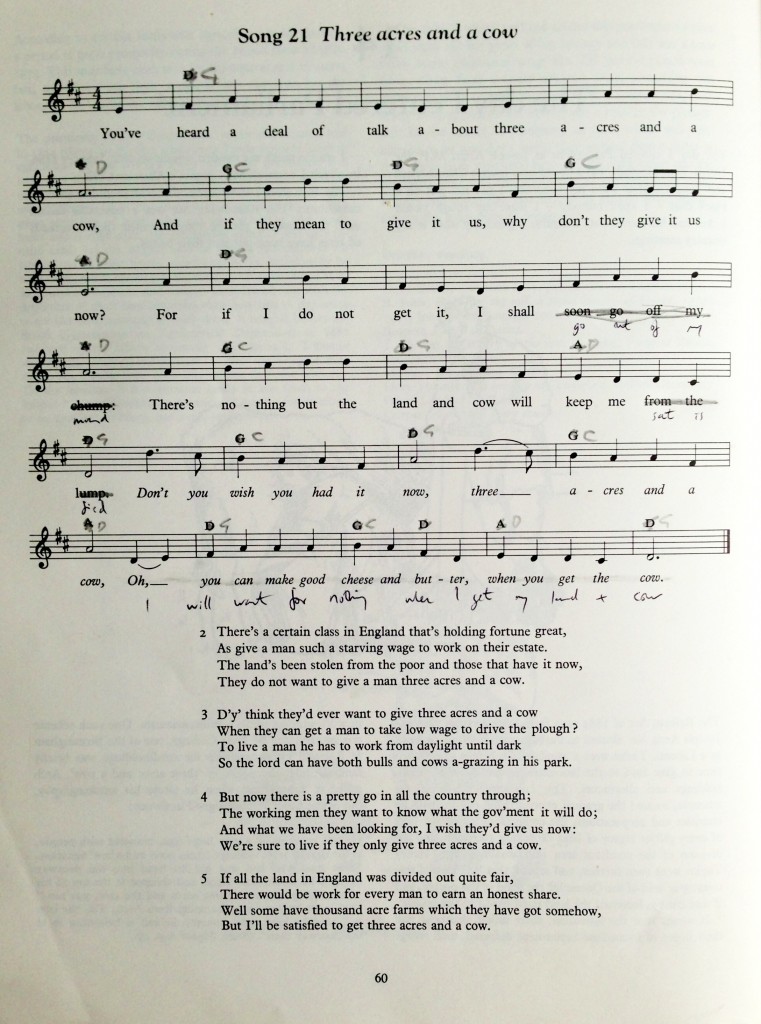 **Please note I have changed some of the lyrics and a bit of the melody – this is fine and you are welcome to change them too – that is how music works #notsacred**
You've heard a lot of talk about three acres and a cow
And if they mean to give us why don't they give it now?
For if I do not get it I may go out of my mind
There's nothing but the land and cow will keep me satisfied
Don't you wish you had it now, three acres and a cow!
Oh you can make good cheese and butter when you get the cow.
There's a certain class in England that is holding fortune great
Yet they give a man a starving wage to work on their estate
The land's been stolen from the poor and those that hold it now
They do not want to give a man three acres and a cow
D'y' think they'll ever want to give three acres and a cow
When they can get a man to take low wage to drive the plough
To live a man he has to work from daylight until dark
So the lord can have both bulls and cattle grazing in his park
But now there is a pretty go in all the country though
The workers they all want to know what the government will do
And what we have been looking for, I wish they'd give us now
We're sure to live if they only give three acres and a cow
If all the land in England was divided up quite fair
There would be some for everyone to earn an honest share
Well some have thousand acre farms which they have got somehow
But I'll be satisfied to get three acres and a cow

Lyrics in the public domain
Scan taken from 'The Painful Plough' by Roy Palmer and reprinted with permission.