Remember, we don't have a 'housing crisis', we have a distribution of land and housing crisis.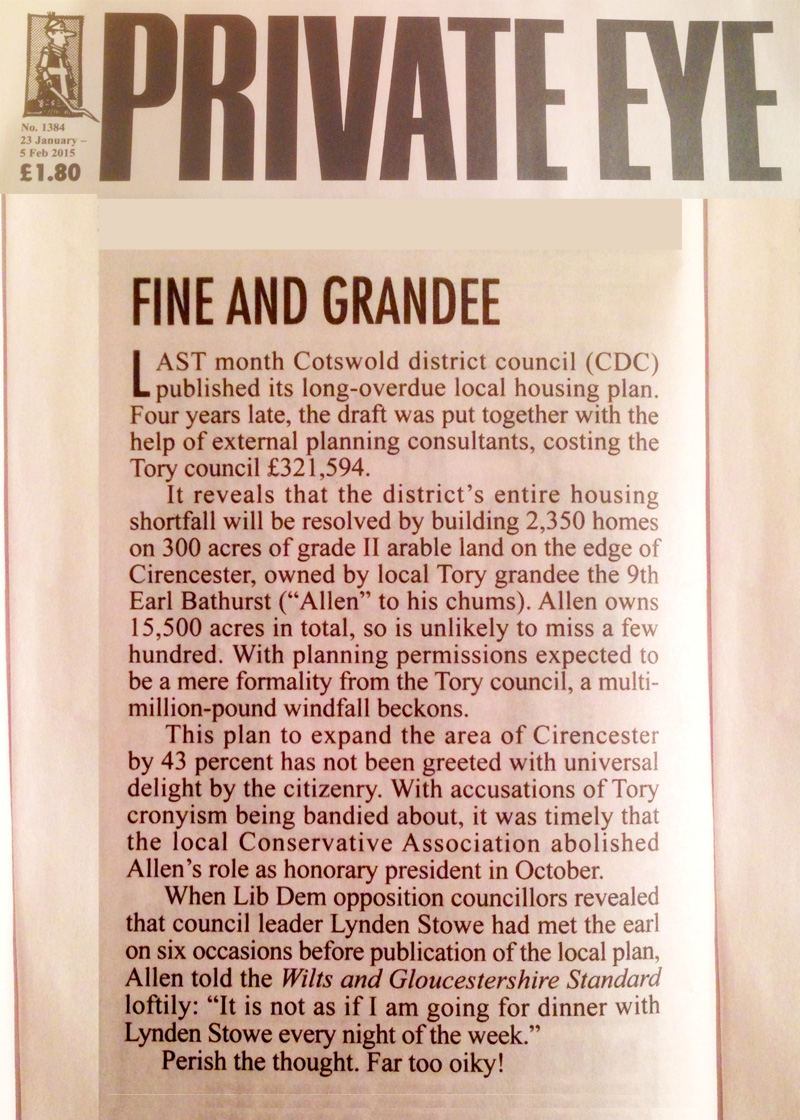 Private Eye
No. 1384 23 January — 5 Feb 2015
FINE AND GRANDEE
LAST month Cotswold district council (CDC) published its long-overdue local housing plan. Four years late, the draft was put together with the help of external planning consultants, costing the Tory council £321,594.
It reveals that the district's entire housing shortfall will be resolved by building 2,350 homes on 300 acres of grade II arable land on the edge of Cirencester, owned by local Tory grandee the 9th Earl Bathurst ("Allen" to his chums). Allen owns 15,500 acres in total, so is unlikely to miss a few hundred. With planning permissions expected to be a mere formality from the Tory council, a multi-million-pound windfall beckons.
This plan to expand the area of Cirencester by 43 percent has not been greeted with universal delight by the citizenry. With accusations of Tory cronyism being bandied about, it was timely that the local Conservative Association abolished Allen's role as honorary president in October.
When Lib Dem opposition councillors revealed that council leader Lynden Stowe had met the earl on six occasions before publication of the local plan, Allen told the Wilts and Gloucestershire Standard loftily: "It is not as if I am going for dinner with Lynden Stowe every night of the week."
Perish the thought. Far too oiky!